Afraid of the Dentist?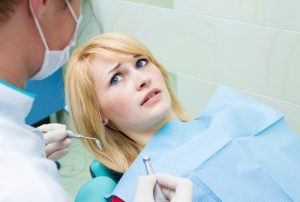 If you're fearful of dental visits, don't worry; it's more common than you think. In fact, research done by a Harvard study shows that 13 to 24 percent of all people have a phobia of the dentist. However, to help you ensure that you maintain a healthy mouth and a great smile, it's important that you regularly see a dental professional, like Dr. Kevin Sands.
To ease your fears about your next dental visit, we've provided some tips below.
Eat Beforehand
Consuming a healthy, well-balanced meal at least an hour before your office visit can actually help keep you calm. Be sure to avoid sugary foods and caffeine, as these can make you more jittery and anxious.
Listen to Music
While sitting in the waiting room, listening to music can put you in a relaxed mood rather than sitting in silence and anxiously waiting to be seen by your dental professional. Various studies have shown that classical music has the most soothing effect.
Communicate
Communication is key in any situation, especially when someone is working on your mouth. Don't be afraid to ask questions about what the procedure entails as well as the length of time the treatment is expected to take.
Find a Professional You Can Trust
While some dentists are dedicated to their craft, there are many who simply have more skill and experience than others. Aside from being masterful at his craft in cosmetic dentistry, Dr. Kevin Sands strives to provide each and every one of his patients with a comfortable experience and the excellent results they desire. His unique approach takes your gender, lifestyle, and ethnicity into account to give you the best smile possible.
As a highly-respected dentist, Dr. Kevin Sands looks forward to seeing you soon! To schedule a consultation at his state-of-the-art Beverly Hills practice, call (310) 273-0111 or fill out our online contact form to get started today.