Cosmetic dentistry procedures are becoming more popular than ever. While treatments are elective, most people consider them to be essential to maintaining good oral health and a professional appearance. When asked what a healthy smile looks like, the general public tends to describe teeth that are straight and white in appearance. This is why the most popular treatments correct issues like stains, enamel loss, cracks, and gaps.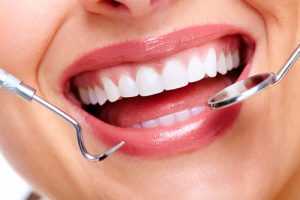 1. Teeth Whitening
Teeth whitening is the most popular cosmetic dentistry treatment because it is easily accessible and relatively inexpensive. Professional teeth whitening is an attractive option to improve the aesthetics of an individual's smile. The treatment process is incredibly safe and non-invasive techniques are used. While over-the-counter whitening options are cheaper, best results are achieved when performed by a professional cosmetic dentist.
2. Porcelain Veneers
Porcelain Veneers are another popular option when teeth whitening is not an option for correcting tooth stains, worn enamel, cracks and chips, or uneven alignment or spacing. An individual's natural teeth require minimal prepping, and several thin layers of ceramic will replace the original tooth enamel to create a more appealing smile. Because a small amount of the original tooth enamel is removed, porcelain veneers are considered a permanent treatment. As opposed to traditional crowns, with veneers, an individual's natural teeth remain intact, with only a slight amount of altering. Veneers are easy to care for, requiring regular brushing and flossing.
3. Invisible Braces
Many people want to straighten their teeth without the traditional metal brackets and wires. Invisible braces have become a popular orthodontic solution. While the cost of invisible braces is slightly higher, due to the materials used, most people, especially adults, like not having metal visible so that they can maintain a professional appearance at work. There are various options for invisible braces, but the most commonly used is Invisalign®. Invisalign® corrects teeth alignment by using fitted retainers that an individual wears for a length of time.
Dr. Sands offers teeth whitening, porcelain veneers, and Invisalign at his Beverly Hills dental practice. To find out more about these treatments, make an appointment with Dr. Sands by calling (310) 273-0111, or complete our online contact form today.