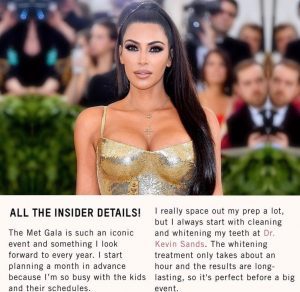 Many celebrities plan their beauty routines in advance to work around busy schedules, especially for high-profile events where they want to have a glamorous Hollywood look as they walk the red carpet. When making an appearance, a bright, healthy, and beautiful smile can be the first thing someone notices.
Not long has passed since reality television star Kim Kardashian showed off a stunning outfit and radiant smile at this year's annual Met Gala. Kim went out of her way to thank Dr. Kevin Sands and commend his work, noting on her personal Instagram account that his services are ideal when preparing for any big event.
"I start planning a month in advance because I'm so busy with the kids and their schedules. I really space out my prep a lot, but always start with cleaning and whitening my teeth at Dr. Kevin Sands."
— Kim Kardashian
ZOOM! Teeth Whitening
If you are looking to whiten your teeth and achieve a radiant smile in a short amount of time, Dr. Sands offers his patients ZOOM! Teeth Whitening for a quick and painless treatment.
ZOOM! Teeth Whitening is the preferred treatment for those with a busy schedule since it only takes around an hour to address stained teeth or other tooth discoloration. Once you have undergone an examination to ensure your gums and teeth are healthy, the gums and soft tissues will be coated with a gel for protection, and a layer of ZOOM! Whitening agent will be applied to the front of the teeth. After the laser light is positioned and left on for four 15-minute sessions, your teeth will look and feel great.
To learn more about Dr. Kevin Sands and his teeth whitening options, visit our website to schedule a consultation or call the office at 310-273-0111.