Instantly Improve Your Smile With Porcelain Veneers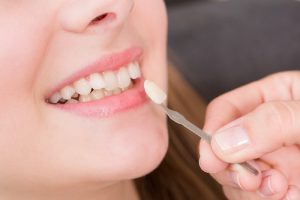 If you had to decide between a quick, easy fix and a complicated, time-consuming solution, which would you prefer? Most people would choose the fast and simple resolution for their problem so that they could correct the situation and move forward. Porcelain veneers are a perfect example of the "quick, easy fix." Veneers are a dental treatment that can resolve many cosmetic dental issues and improve your smile in just two short visits to the dental office.
How Veneers Can Improve Your Smile
Porcelain veneers can be bonded to your teeth to disguise wear and tear. Teeth that are chipped, cracked, crooked, gapped, worn down, or stained can be fitted with veneers to restore a more aesthetically pleasing appearance. Veneers are made to match your smile for a natural look, and they can improve both the beauty and functionality of your teeth. Porcelain veneers can provide many of the same solutions as alternative dental treatments like braces, Invisalign®, and teeth whitening.
A Quick and Simple Solution
Porcelain veneers are fixed to the teeth over just two office visits. During the first visit, your teeth will be prepared (shaved) to receive the veneers, and a mold will be taken of your teeth so the customized veneers can be made to match them perfectly. You will have temporary veneers until your personalized ones are made. At your second appointment, the temporary veneers will be removed, and your customized veneers will be permanently cemented to your teeth to enhance your smile.
Alternative treatments that straighten, repair, or whiten teeth can be time consuming and painful. Teeth straightening with Invisalign® or braces can take well over a year and may cause sensitivity, discomfort, and inconvenience in the meantime. Conversely, veneers can instantly mask gaps and crooked teeth without any pain and even without anesthesia. At-home or in-office teeth whitening treatments may take time to achieve your desired shade, and whitening treatments do not work for all patients. Discoloration due to tooth injury or medications cannot be fixed with whitening, but it can be corrected with porcelain veneers. Unlike many quick fixes, veneers are not temporary; they are a permanent and long-lasting solution for a renewed smile. You can return home with an instantly improved smile that will last you well into the future.