2 Minute Read: 
Dental implants are a long-term and aesthetically pleasing solution to tooth loss. 
They are designed to be a durable and lasting alternative to dentures or dental bridges. As they are fixed to your mouth, you can't remove them yourself, but you can treat your dental implants like you would your natural teeth. 
And as long as you take good care of them, they will last for decades.
In modern cosmetic dentistry, dental implants to replace one or more missing teeth are more preferred than dentures. 
The American Academy of Implant Dentistry estimates that about three million people already have dental implants, and about 500,000 people a year are opting for implants.
So, how long will your dental implants last? Here, we'll give you some tips to help increase the lifespan of your dental implants.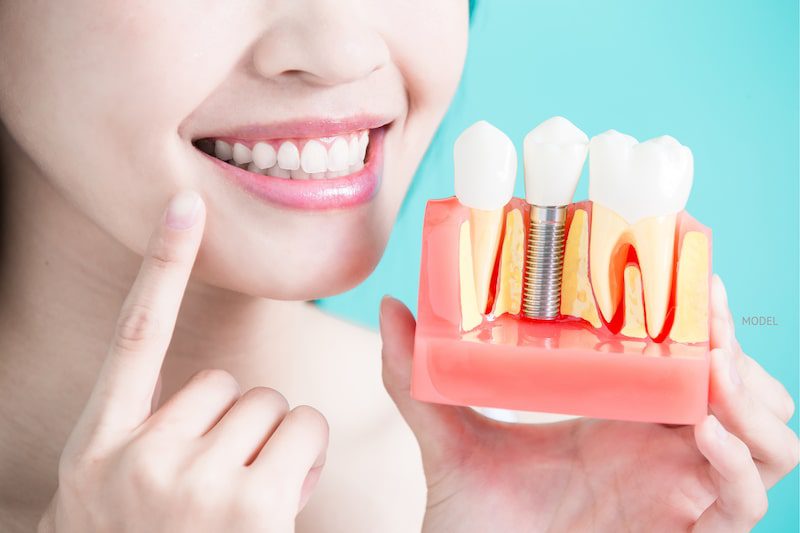 How to Care for Dental Implants?
Dental implants are intended to be permanent, but you will need to take proper care of them. 
To ensure that your dental implants last, you will need to treat them like your natural teeth. 
Brush and floss regularly to keep them bacteria and plaque-free. Brushing your implants with a soft-bristled toothbrush and non-abrasive toothpaste twice a day helps reduce the chances of infection, which can lead to implant loss and additional complications.
Your dentist can give you advice about which type of toothpaste and toothbrush is best.
Ensure that you carefully clean around your implant by flossing underneath the implant crown. You can also use an interdental brush, which will allow you to clean in hard-to-reach places. It's also a good idea to gargle with mouthwash after cleaning your teeth.
Developing a good oral hygiene routine will help keep your implants clean and ensure they are long lasting. 
Even with proper care, the crown attached to your implant may need to be replaced in 10 to 15 years time (just like a traditional crown). Having regular dental check-ups will allow your dentist to check that your implants are in good condition.
How Successful Are Dental Implants?
Dental implants have a high success rate, and many people are amazed at how natural and strong they feel in the mouth. Because of this, dental implants are the most sought-after form of tooth restoration. 
Nobody ever wants to consider tooth replacement options. Unfortunately, it is a fact that many have to face at some point. Why not consider the longest-lasting, most durable, and aesthetically pleasing option?
Interested in Dental Implants?
If you have missing teeth and would like to learn more about dental implants, don't hesitate to contact Kevin B. Sands, DDC, Cosmetic Dentistry.
Give us a call today at (310) 273-0111 or fill out our contact form.