2 Minute Read:
Porcelain veneers have become more common in the media. It seems like everyone wants veneers to help them achieve a big, beautiful smile. However, they are not meant for everybody, and it is a big decision to make.
While veneers can be beneficial in creating a person's "dream smile," there are risks to them. A consultation with Dr. Sands is the best way to determine candidacy for porcelain veneers. However, you can use this blog to understand the benefits and limitations of veneers more completely.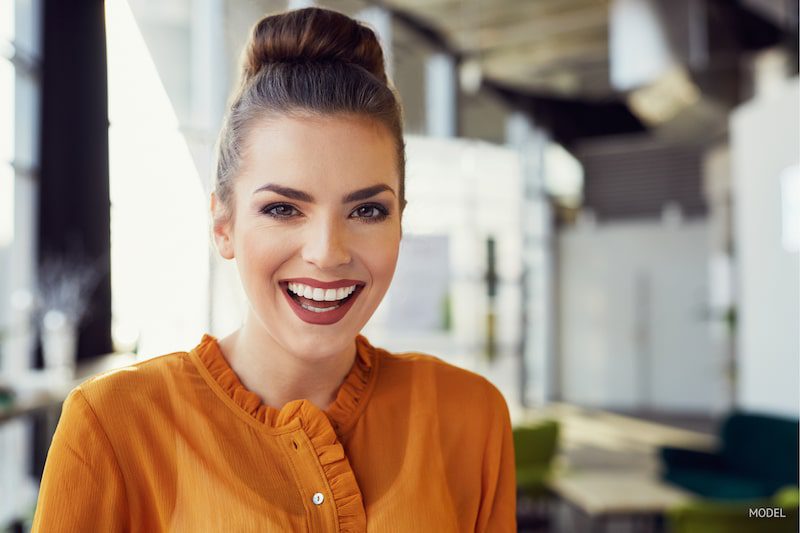 What Are the Benefits of Porcelain Veneers?
Before deciding if porcelain veneers are right for you, you should first understand their main benefits.
Porcelain veneers can:
1. Improve Tooth Discoloration
Despite popular belief, yellow teeth are not necessarily unhealthy. It is normal for teeth to become a slight yellow color over time. However, many people are embarrassed or unhappy with the color of their teeth.
If regular teeth whitening techniques are not helping your permanently stained teeth, porcelain veneers might be for you.
Porcelain veneers provide patients with whiter, brighter teeth that can help increase their self-confidence, making them want to smile more.
2. Protect Damaged Teeth
Being unhappy with your teeth can make life difficult. People who are unhappy with the appearance of their teeth are less likely to smile and laugh.
After receiving treatment for damaged, decayed teeth, you may still be unhappy with them cosmetically.
Porcelain veneers can be placed on teeth to protect them and restore an attractive appearance.
3. Correct Gapped, Crooked Teeth
Even if you had braces, your teeth could still shift slightly. Porcelain veneers can improve the appearance of gapped, crooked teeth that resulted from natural shifting or tooth loss.
What Are the Downsides of Porcelain Veneers?
While undergoing treatment for porcelain veneers is generally safe, there are risks. You should be sure veneers are right for you before making this big decision.
Before deciding whether or not veneers are right for you, it is important to know that getting veneers is a permanent decision. You cannot just remove them and go back to your natural smile. Once veneers are put on, you will always need to have them. Additionally, in some cases, veneers may need to be redone as you age. Before getting veneers, you should be prepared to pay for the upkeep for the rest of your life. With proper care, porcelain veneers can last up to 15 years before needing to be replaced.
Interested in Learning More About Veneers in Beverly Hills?
If you are interested in learning more about how you can benefit from veneers, please contact Dr. Sands at (310) 273-0111 or fill out our online consultation form.