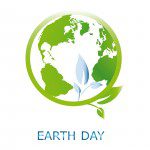 Earth Day falls on April 22 each year and was established to increase awareness and appreciation of the Earth's natural environment. Events are held worldwide that promote decreased pollution and waste in order to lead to a cleaner, safer, and "greener" environment for us to live in. In celebration of Earth Day, we would like to highlight a couple of our "green" dental practices at Dr. Sands's office that make us environmentally friendly.
All of our X-rays are digital, so no chemicals need to be used for film development, and we don't produce any film waste. A sensor placed in your mouth is used to capture pictures of your teeth. These pictures are then sent straight to our computers so we don't have to wait for them to be developed. Not only do digital X-rays save valuable time, they expose the patient to half the amount of the radiation emitted from conventional X-rays.
We do not use any metal or mercury in our fillings. Some dentists use amalgam, sometimes referred to as a "silver filling," which contains liquid mercury and a powder containing other metals. Amalgam fillings are very common and are considered a safe and effective treatment for tooth decay. However, when the material is not properly disposed of, it can be released into the environment through the sewers. At the sewage treatment plants, the amalgam waste settles as a component of sewage sludge, and the harmful material is disposed of in landfills, through incineration, or as fertilizer. To avoid pollution, many affordable alternatives to amalgam, such as resin composite, glass ionomer, resin ionomer, porcelain, and gold alloys, are now used in dental offices.
At Dr. Sands's office, we believe that as we make small changes to our daily habits, we can ultimately make a significant impact on the quality of our environment. If you would like to schedule an appointment at our Beverly Hills dental office, call (310) 273-0111 today.