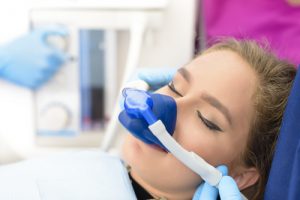 Dr. Sands offers sedation dentistry for patients who may be anxious or fearful when visiting the dentist. Sedation dentistry is also an option for those who may have a sensitive gag reflex, a special needs child, or no time for multiple visits to the dentist for more extensive procedures. Sedation allows you to be either completely relaxed or asleep during treatment so that none of these things are a concern. During your initial consultation for a dental procedure, Dr. Sands will help determine if sedation dentistry is right for you.
The Benefits of Sedation Dentistry
Feel comfortable instead of anxious during treatment
Save time with fewer visits for extensive procedures
Avoid the fear of needles or potential pain
Avoid the sound of drilling or scraping
Avoid triggering a sensitive gag reflex
Have no memory of the procedure
Keeps special needs patients relaxed
How Sedation Dentistry Works
Various options for either light sedation or complete sedation are available to keep you comfortable during your treatment. Dr. Sands will ensure your needs are safely and efficiently met and that all your questions are answered before your procedure.
Frequently Asked Questions
What is sedation?
Sedation keeps patients comfortable and relaxed during their procedure with the help of various medications. You can choose to be either completely asleep or awake, yet relaxed, during treatment.
What type of anesthesia is used?
Oral or intravenous medications, or nitrous oxide (laughing gas), will keep you relaxed, yet responsive, during treatment. If you need deeper sedation, general anesthesia will put you to sleep completely so that you have no recollection of the procedure.
How is sedation administered?
Light sedation is administered with a pill that will help you relax. Laughing gas has the same effect and is inhaled through a breathing mask. If deeper sedation or general anesthesia is desired, medication is administered through an IV under the supervision of an anesthesiologist. With all sedation methods, local anesthesia is applied to numb the area.
How can I prepare for sedation?
You should arrange to have someone drive you to and from your appointment and spend two to four hours with you after your procedure to help you with anything you may need until the effects of the anesthesia wear off.