Porcelain Veneers or Invisalign®?
Are you debating whether you should get porcelain veneers or Invisalign®? If you're looking to improve your smile, one of these could be an excellent choice for you. Whichever option you choose, you could end up with the straight, beautiful smile you've always wanted.
Porcelain Veneers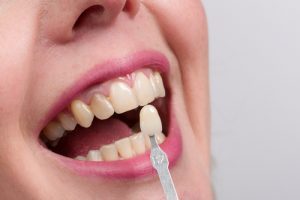 Porcelain veneers are thin sheets of porcelain that are permanently affixed to your teeth. They can correct a variety of issues, such as discoloration, cracks, chips, breaks, shape issues, and crookedness. With just two office visits, you can have your teeth fitted with porcelain veneers to improve your smile.
Best for:
Color correction
Shape correction
Disguising cracks, chips, and breaks
Quick treatment
Minor teeth straightening
Advantages Over Invisalign®:
Quick treatment process: Treatment with veneers takes only two office visits to complete. Treatment with Invisalign® can take well over a year and requires regular office visits.
Color correction: Veneers can be affixed over discolored teeth. They are also stain-resistant and made to match the surrounding teeth for a seamless smile. Invisalign® does not correct tooth color.
Shape correction: Veneers can improve the appearance of unevenly shaped teeth, whereas Invisalign® can only bring teeth into better alignment.
Elimination of crookedness and gaps: Veneers can disguise gaps and crooked teeth with just two treatments. Invisalign® can take many months to do the same.
Disguising cracks: Veneers can cover cracks, chips, or breaks in teeth, but Invisalign® cannot.
Painless treatment: Veneers are a painless treatment, while Invisalign® may cause some discomfort during the teeth shifting process.
Versatile uses: Veneers have many versatile uses and can correct tooth color, gaps, crookedness, bite issues, and cracks. Invisalign® has a more limited goal to straighten teeth and eliminate gaps and bite issues.
Invisalign®
Invisalign® is a long-term tooth-straightening process. Using clear, custom-made alignment trays that fit snugly over your teeth, Invisalign® slowly shifts your teeth into place. Each week or two, you swap your trays for a new set so that over time, your teeth continue to shift. Invisalign® permanently straightens teeth with a solution that is far more cosmetically appealing than braces and is good for long-term dental health.
Best for:
Dental health
Bite correction
Teeth straightening
Advantages Over Porcelain Veneers:
One-time solution: While the length of treatment can last over a year, Invisalign® is a one-time treatment. Veneers need to be replaced every five to 10 years, which can become expensive and inconvenient over time.
Better for enamel: Invisalign® trays do not damage the enamel. Before veneers are cemented to the teeth, treatment requires an irreversible removal of surface enamel that can weaken the teeth.
Elimination of crookedness and gaps: Invisalign® straightens the teeth and permanently eliminates gaps so that the teeth fit naturally and snugly in place. Veneers make teeth look straight and gap-free, but the actual teeth are unchanged.
Dental health: Invisalign® corrects dental imperfections, while veneers cover them up. By straightening teeth, Invisalign® improves dental health and guards against tooth decay and gum disease. Veneers improve the appearance of the teeth, but any underlying tooth or gum problems will still exist beneath them.
Bite: Invisalign® can even correct many significant issues with your dental bite, and this is not always possible with veneers.
Color matching: Invisalign® does not adjust tooth color. However, even though porcelain veneers do, veneers do not respond to any subsequent natural discoloration or teeth whitening treatments once they are fitted to the teeth. This means that they may not always match the surrounding teeth over time.
Rotated teeth: Invisalign® turns rotated teeth so that they are straight and aligned. Veneers can make many teeth appear straight but are not often recommended for rotated teeth.
Dr. Sands offers both porcelain veneers and Invisalign® at his Beverly Hills dental practice. To find out more about these treatments, request your appointment with Dr. Sands. Call (310) 273-0111 or complete our online contact form to reach us today.