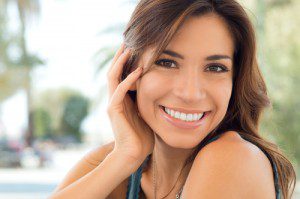 Did you know having straight teeth can improve your speech? Many people have speech impediments that are caused by a hearing impairment or by other circumstances that are not easily treatable.
More often than not, a speech disorder is caused by malocclusion (crooked or misaligned teeth), and can be easily treated with straightening dental procedures such as porcelain veneers, braces, or Invisalign®.
When malocclusion affects a person's speech, it is usually because of how the tip of the tongue is placed on the teeth when forming the "t," "d," and "n" sounds. Sometimes, in an effort to counteract their impediment, the person can overcompensate and instead develop a mild to moderate stutter. A speech impediment like a lisp can be distracting, but stuttering or mispronouncing words can have a devastating effect on a person's confidence, which is one of the many reasons one should seek treatment.
Invisalign®
If the appearance of braces is a concern, Invisalign® is the ideal option because it straightens the teeth undetectably. A series of custom fit trays are given to the patient in two-week increments to progressively straighten teeth over a period of one to two years. This treatment can correct most cases of malocclusion, such as gaps, overbite, underbite, and crowded teeth. While braces require some diet restrictions, Invisalign® does not require patients to restrict their diet in any way, as the trays are to be removed while eating.
Porcelain Veneers
Porcelain veneers are another option to restore a straight smile and improve speech. Veneers are the best choice for those who want a straight smile within a little amount of time, as final results are seen in only two visits to the dental office. As thin pieces of porcelain that cover the front of the teeth, veneers have the added advantage of disguising many other aesthetic issues a patient may be concerned about, such as cracks, chips, discolorations, or misshapen teeth. Diet restrictions and special precautions are also unnecessary with veneers; however, patients should always practice regular oral hygiene to maintain their healthy, beautiful smile.
Since malocclusion can worsen over time or lead to other problems, such as chips in the teeth, jaw pain, and chronic headaches, it is important to seek correction as soon as possible.
Whatever your concern, Dr. Kevin B. Sands can help determine if malocclusion is the cause. To schedule an appointment and to find out more about these dental procedures, please schedule an appointment by calling (310) 273-0111. For your convenience, you may also fill out our online contact form.