2 Minute Read: 
At the beginning of the pandemic, Americans were told to stay home. This meant canceled trips, events, and dental appointments. Fortunately, California COVID-19 cases have gone down while vaccination rates continue to climb.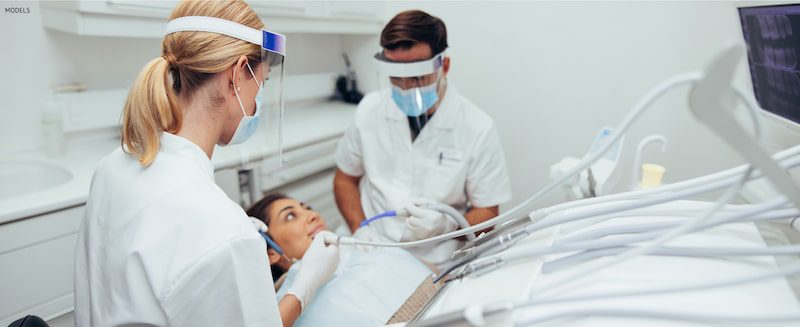 The CDC has published guidelines for dental settings to help dental professionals put protective measures into place. Therefore, the experience of going to the dentist has changed somewhat. 
Let's take a look at how COVID-19 continues to affect dentistry and what you might experience at your next appointment.
Has Demand Recovered?
Dentistry Today reports that consumers are returning to the dentist's office with an expected growth of 20 percent. Pent-up demand may push those numbers even higher. 
Since putting off cleanings can lead to the need for more restorative work, we urge you to come in for checkups, cleanings, and other dental services to maintain your dental health.
What Are the Most Popular Procedures?
Interestingly, more dental clients are opting for elective procedures. This trend may partially stem from the stimulus checks distributed to get the economy moving. It includes cosmetic work such as full bridges and dental implants.
What to Expect Before Your Appointment
You will go through a quick health screening prior to your appointment. Your dental team will ask a series of questions such as:
Do you have a fever? (This step may include a contactless temperature check.)

Do you have a cough or shortness of breath?

Have you come into contact with someone who tested positive for or had symptoms of COVID-19?
Depending on your answer, it may make sense to reschedule your appointment. If you haven't experienced any of the pre-screening conditions, you'll go ahead with your appointment.
What Happens During Your Appointment?
Depending on when you visited the dentist last, you may notice quite a few changes. For example, you can fill out any necessary forms online and call ahead to let the dental staff know that you have arrived. Depending on how many people are in the waiting area, we may ask you to wait in your car for a few minutes or to go ahead and come in.
All members of the dental staff and office team now wear personal protective equipment to help prevent the spread of the coronavirus. 
We also have hand sanitizing stations to create another barrier against COVID-19. Additionally, you should keep your mask on until instructed to remove it just before you receive treatment.
Need to Schedule a Dental Appointment?
Contact the office of Kevin B. Sands, DDS online, or call us at (310) 273-0111 to schedule an appointment.