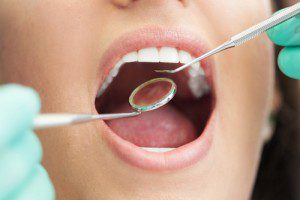 Tooth enamel is the hardest substance in the human body, built to withstand literal wear and tear on a daily basis as we bite, speak, clench, and chew. Each year, your enamel will wear down an average of eight micrometers from normal factors, but there are several factors that can accelerate its decline.
Acid
Acid will erode enamel over time. Acid occurs in your mouth naturally after you eat food that contains sugar and carbohydrates. Soda and fruit juices are among some of the most harmful to consume, especially when you sip on them throughout the day. The longer the sugar remains on your teeth, the longer the bacteria in your mouth have to feast on it and create the corrosive acid.
Acid can also occur in your mouth if you have a condition that causes frequent vomiting or if you have acid reflux disease. Since your saliva neutralizes these acids, dry mouth will cause these acids to linger even longer, causing even more damage.
As we mentioned in a previous post, you can avoid excessive acid in your mouth by avoiding certain foods and beverages.
Using Teeth as Tools
Tooth enamel damage is also caused when you use your teeth as tools. You should never open bottles, packages, or other containers with your teeth. Doing so can permanently chip or crack your enamel. Chewing fingernails, non-food items, or ice can have the same result.
Grinding Teeth
Many people grind their teeth and are not even aware that they do it. This will definitely accelerate enamel erosion and can even fracture the enamel. Your dentist will be able to tell if you have excessive wear on your enamel and may recommend wearing a mouthguard at night, when teeth-grinding is most likely to occur.
If you have chips, cracks, or any degree of enamel erosion, Dr. Sands can give you a treatment plan that will set you on the road to repair. To schedule a consultation, please call (310) 27-0111 today. You may also fill out our online contact form for more information.