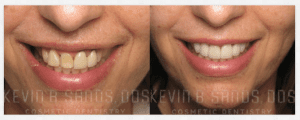 "Brush your teeth" and "floss more often" are the two phrases that most people expect to hear when they sit in the dentist's chair. Yet, while some people have poor oral hygiene habits and rarely get cavities, others take excellent care of their teeth and still get cavities and gum disease. Good oral hygiene care is still the most critical factor in having good teeth, but there is indeed a genetic element to having bad teeth.
Genetic Factors for Bad Teeth
Much like the color of your eyes, the makeup of your teeth and gums is inherited. Children who inherit their father's large jaw but their mother's small teeth will likely have large gaps between their teeth. Those who inherit a small jaw and large teeth will likely have overcrowded, crooked teeth. Simple genetic factors such as tooth shape, tooth size, and jaw size all affect how crooked or straight your teeth may be. Additionally, you may inherit teeth with softer enamel that are more vulnerable to cavity-causing bacteria. Gum disease is yet another hereditary factor. Other genetic factors have a more indirect effect: a preference for sugary foods, heartburn or acid reflux, and behavioral tendencies can all be inherited and lead to poor oral hygiene habits that ultimately harm your teeth.
Oral Hygiene and Behavioral Factors for Bad Teeth
While there is a distinct genetic component to having bad teeth, oral hygiene is the far greater predictor of tooth health. Oral hygiene habits, diet, and behavioral factors established at a young age are key predictors of having either bad teeth or healthy teeth. Neglecting dental care for very young children well before permanent teeth come in (and even before all baby teeth have grown) can lead to tooth problems. During tooth development, a lack of calcium in the diet can lead to weak teeth that are more vulnerable to cavities. Bad habits such as sucking on pen caps, chewing on straws, prolonged thumb-sucking, or using your teeth to open packages can cause crooked teeth as well as tooth chips and cracks. Avoiding six-month or yearly dental appointments prevents your dentist from being able to catch warning signs early on, when the problems are easier to manage. Partaking of nicotine and tobacco products can cause gum disease, tissue damage, and tooth decay. Most of all, excess consumption of sugary or acidic foods and drinks can wear down tooth enamel.
Despite the hereditary factors, good oral hygiene habits remain the greatest predictor of having healthy teeth. Follow your dentist's advice and remember to brush and floss regularly, use fluoride, avoid sugary and acidic foods and drinks, avoid smoking, and take care of your teeth so that they can last you a lifetime.
To receive more expert dental advice and improve the health and appearance of your teeth, schedule your consultation with Beverly Hills cosmetic dentist Dr. Kevin Sands. Call (310) 273-0111 or fill out our online contact form to request an appointment for a consultation today.