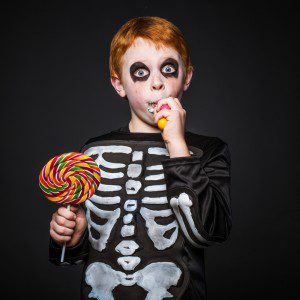 With Halloween right around the corner, you've probably been reminded of Jimmy Fallon's Youtube challenge, "I Told My Kids I Ate All Their Halloween Candy." Maybe you've also heard about the "candy tax" where parents keep a certain percentage of their child's Halloween candy for themselves. It's become obvious that many adults feel entitled to a piece of the sweet candy goodness of the holiday, and some of them will pull any trick in order to get it. The problem is, most candy collected by the typical trick-or-treater is FILLED with sugar, and too much sugar can wreak havoc on a beautiful, healthy smile. Sugar provides the energy needed for bacteria to multiply, fester, and eventually cause gum disease and tooth decay. Sound spooky? We thought so! To help, we're sharing a few tricks that will keep your teeth healthy – and your kids happy – this Halloween.
The Little Treat
According to the National Confectioners Association, 72 percent of all candy purchased for Halloween last year consisted of milk chocolate. The typical milk chocolate bar contains 30 percent cacao, 20 percent milk solids, and 49 percent sugar. That's right; HALF of the typical milk chocolate bar is pure sugar! Fortunately, the majority of chocolate Halloween candy comes in "fun size," which is about one-fourth the size of a regular chocolate bar. The sugar content in these little devilishly delicious bites is obviously much lower overall than that of a full chocolate bar, but just a few of them can add up quickly. Limit yourself to just one or two fun-size treats per day to avoid sugar overload.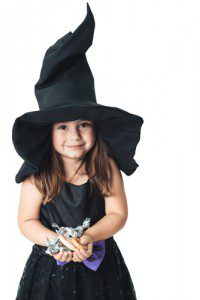 The Treat and Cheat
Another way to steer clear of too much sugar is to enjoy your fill and immediately wash the sugar away. If you brush your teeth thoroughly after enjoying your (or your child's) Halloween candy, there is less of a chance for bacteria to multiply. If you don't have time to brush, rinsing your mouth with water will help to get rid of some of the lingering sugar. Flossing will also help to remove sugar that can stick to the teeth below the gum line.
The Substitute Treat
Although milk chocolate contains a percentage of the healthy ingredient cacao, which is high in antioxidants, the high sugar content in milk chocolate cancels out any of its health benefits. Dark chocolate that is 70 percent cacao may taste more bitter, but it has a lot less sugar to harm the teeth and can serve as a great candy alternative. If the bitter taste of dark chocolate is too difficult to get used to, you can substitute sugar-laden candy for sugar-free, or choose a candy alternative like trail mix.
Whether you need a general assessment or a total smile makeover, treat your teeth this Halloween to the services provided by celebrity cosmetic dentist Dr. Kevin B. Sands.  Please call (310) 273-0111 or fill out our online contact form today to schedule an appointment.