Fake it until you make it. We've all heard that saying, and surprisingly, it's scientifically proven to help improve our quality of life. Philosopher William James was one of the first to propose that acting as if you already have the positives you feel are lacking in life is the best way to see them to fruition.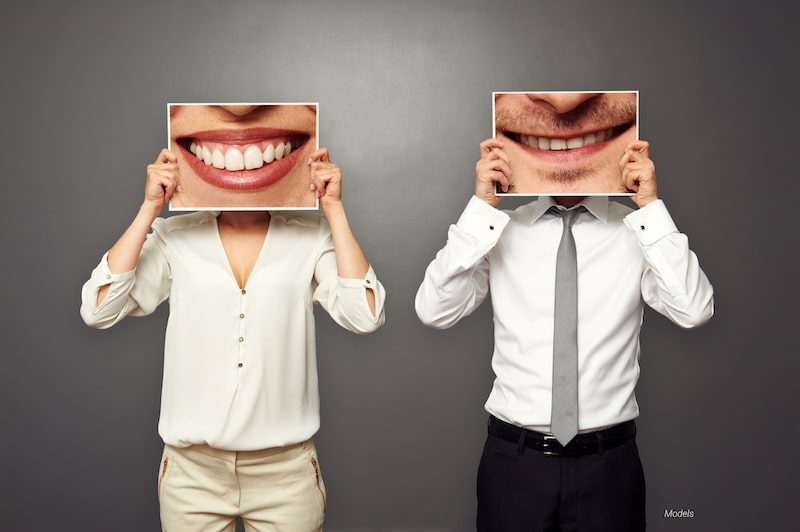 Scientist Charles Darwin believed that facial expressions directly affect our mood. Communicating feelings to others through facial muscle contractions, such as smiling, can strongly influence our emotional state regardless of our circumstances.
The works of James and Darwin eventually led to the "facial feedback hypothesis."
One well-known study found that sticking a pen between your teeth to force a smile could lift your mood, and conversely, putting it between your lips to force a frown had the opposite effect.
What Are Some Specific Benefits of Smiling More?
Extensive research has shown that smiling can reduce cortisol and release endorphins for the following benefits:
Boosts mood and reduces stress
Reduces blood pressure
Increases endurance
Reduces pain
Strengthens immunity
Further studies show that those who smile often seem more polite, approachable, likable, competent, and productive.
Alternatively, not smiling or laughing freely and hiding these expressions can lead to unfortunate consequences, such as:
Making a poor first impression
An inability to express authentically
Misunderstandings
With all that being said, having teeth that are misaligned, discolored, misshapen, or chipped can make it harder to "fake it until you make it" with a smile.
5 Ways to Improve Your Smile and Your Life
The first step to a better smile is optimizing your oral health by addressing any existing tooth decay and problems with your gums.
Periodontal disease not only threatens the stability and function of your teeth, but it can also have a detrimental effect on your overall wellness.
Once your teeth and gums are healthy, you can take one or more of these five steps to improve their appearance:
1. Professional Teeth Whitening
Professional teeth whitening is the fastest and simplest way to a bright and beautiful smile if there are no structural or alignment issues. Having teeth whitened with a professional product like Zoom! can lighten teeth up to eight shades in a single dental visit or over two weeks at home with custom whitening trays.
This treatment works best on extrinsic (surface) dental stains that have appeared due to years of drinking coffee, tea, wine, dark juices, or using tobacco products.
Deep (intrinsic) discoloration may require dental veneers as they do not respond as well to professional teeth whitening.
2. Invisalign®
Invisalign® is a discreet and effective teeth-straightening system that can correct misaligned, twisted, and gapped teeth and improve bite issues.
A graduated series of customized clear aligners are worn for at least 22 hours every day for two weeks and then replaced with the next set in the series.
This process quickly gets you closer to your goals without metal braces and can even be used with teeth whitening during the final two weeks of treatment.
3. Porcelain Veneers
Porcelain dental veneers are ultra-thin but durable ceramic shells customized to fit perfectly over natural teeth, with treatment taking about two weeks to complete. Veneers can mask the following cosmetic flaws:
Worn-down, small, or misshapen teeth
Cracked or chipped teeth
Gapped or mildly misaligned teeth
Deeply stained teeth
These prosthetics can completely transform a damaged and discolored smile from dull to dynamic.
4. Cosmetic Dental Bonding
Cosmetic dental bonding (composite veneers) offers benefits similar to porcelain veneers but only involves one visit. The dentist applies a composite resin color-matched to your natural or whitened teeth to correct structural damage and provide excellent results.
While cosmetic bonding is less expensive than porcelain veneers, they are not as strong and are more prone to chipping or discoloration.
5. Dental Implants
One or more dental implants are the healthiest solution to replace missing teeth. Unlike a traditional bridge, dental implants replace the whole tooth, from root to crown, to restore function and appearance to your smile. Only replacing the visible portion of a tooth deprives the underlying bone of the necessary stimulation once provided by the natural tooth root. Without this stimulation, the bone begins to lose density and mass in a process known as resorption, and can lead to undesirable changes to lower facial features.
Smile Makeovers in Beverly Hills, CA
Dr. Kevin Sands is a well-respected and highly reputable Beverly Hills cosmetic dentist who can help you straighten, whiten, or correct other dental imperfections so you can express yourself more genuinely while enjoying the benefits of smiling and laughing openly.
"I never liked my smile. My front teeth were discolored and had spaces between them. I was so unhappy that I would use my hand to cover my teeth when I smiled. Ever since I had veneers put on, my life has improved dramatically. I have so much more self-confidence that I can't stop smiling. It's amazing how two short visits to your office changed my life."

~ M.D.K. (one of Dr. Sands' many satisfied patients)
If you want to address problems with your teeth, smile more, and be happier, call Dr. Sands' cosmetic dentistry office in Beverly Hills, California, at (310) 273-0111 today!