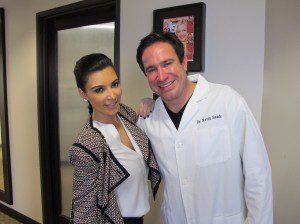 As a Beverly Hills cosmetic dentist to the stars, it's not uncommon to see a celebrity or two in my waiting room. The most recent Hollywood stars to step into my office are probably the most recognized smiles on the Internet. A "winning" star in Hollywood, Charlie Sheen knows what it takes to look picture-perfect – a bright and impeccable smile! Recently, the ever-popular television and film star stopped my office to undergo some dental work. Shortly after his visit, TMZ got wind of his dental work and featured us. You have to love how quick things get around in this business!
In addition to Sheen, the beautiful Kim Kardashian stopped by for some fillings just this week. Being in the spotlight for the better part of your day tends to require that you always appear camera-ready. And I take great pleasure in helping all of my patients achieve the best smile possible.
Whether they need a filling, like Kim did, or more extensive treatments, I am dedicated to providing patients with their desired goal. Schedule an appointment at my practice and get the A-list treatment you deserve.