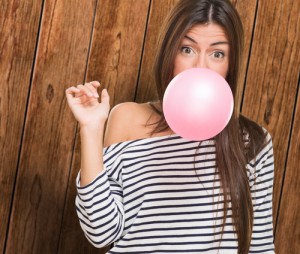 You may have heard that chewing gum is bad for your teeth, but the act itself is not harmful. In fact, chewing gum can actually be good for your teeth, depending on the ingredients it contains. It is important to monitor the ingredients in your gum and the length of time your teeth are exposed to certain harmful ingredients. Namely, sugar.
When you chew gum that contains sugar, the sugar is dissolved in the saliva and is absorbed by bacteria in plaque. Once a bacterial cell absorbs the sugar, the bacterial cell is supplied with the energy it needs to multiply. If the bacteria isn't removed with brushing, bacteria will fester, which can result in gum disease and tooth decay.
On the flip side, chewing gum that contains xylitol has the exact opposite effect. Xylitol is a sweetener that is found naturally in fruits and vegetables. It has 40 percent fewer calories than sucrose (another name for sugar) and can be consumed safely by diabetics. Xylitol is also easily absorbed by a cell of bacteria, but once it is absorbed, the cell will try to expel it. Because its energy is used to expel the xylitol and not to reproduce, a bacterial cell that has come in contact with xylitol is less able to stick to the teeth, and it eventually dies.
What about other sugarless sweeteners?
Xylitol has a completely different chemistry than other sugarless alternatives, such as aspartame (NutraSweet®), sucralose (Splenda®), and saccharin. Sugarless sweeteners like these are too large to penetrate the bacterial cell. While they do not increase bacteria like sugar does, they don't kill bacteria like xylitol does. What's more, these artificial sweeteners can have negative effects on the health. They can falsely stimulate the appetite, thereby increasing fat storage and leading to weight gain. Aspartame has been linked to various diseases, including diabetes, depression, auto-immune disorders, and several types of cancer.
Xylitol gum creates a healthy environment in the mouth. After 5 weeks of chewing xylitol gum, plaque bacteria can no longer be found on teeth, and after about 6 months, bacteria is not detectable in saliva, on the tongue, or on the teeth. One of the best brands of xylitol gum is Spry™, which contains no sugars, artificial flavors, artificial colorings, or artificial preservatives. XyloBurst® is another brand of sugar-free gum that is sweetened exclusively with 100% all-natural xylitol.
If you are interested in the general and cosmetic dental services offered by Dr. Kevin B. Sands, please contact our Beverly Hills office by calling (310) 273-0111 today. For your convenience, you may also fill out our online contact form.